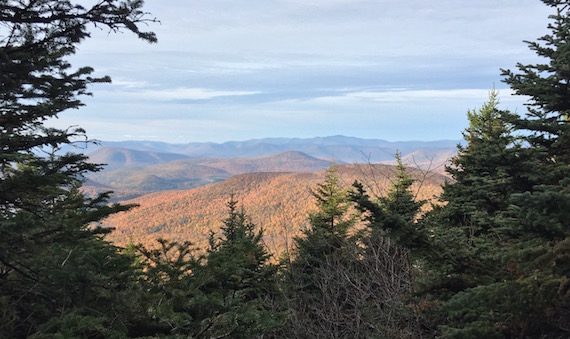 Looking back on 2015, most of what I have to say is about running, because that was pretty much the only thing I did all year. After dipping my toes in marathon and ultrarunning the previous year, I decided to dive in to some serious training and racing, with Twisted Branch 100K the big goal race influencing most of this year, along with a handful of other big events.
Running statistics and milestones (based on Strava)
I ran a lot:
2,017 miles ran (up 317 from last year)
300 miles raced (more than all past races combined)
First 50 mile run (Mind the Ducks and Finger Lakes 50s)
First 100K run (Twisted Branch)
New time-on-feet milestones (12 hours at Mind the Ducks, then 14:45 at Twisted Branch)
11 races, one FKT attempt
One marathon and five ultramarathon races
Spent more time running than driving a car
I climbed a lot of hills:
186,000 ft of climbing (2 Olympus Mons + 1 Everest) (up 50,000 from last year)
8 of my top 10 runs by EC are from this year
First 10,000 ft run (Twisted Branch)
First time on mountains
I performed better:
PRs: one mile, 5K, 10K, half marathon, 30K, marathon, 50K
One win, three other top-five finishes
Broke 80% on UltraSignup
My favorite experiences
Early morning group runs under the starlight, pre-dawn climbs led by Ben Murphy at Hi Tor and Bristol ski trails, chasing the sunrise to a hilltop with friends, racing the sunset at Twisted Branch, marking the Mighty Mosquito race course in the night and checking it at 5 AM, a quiet midnight group run on the winter solstice.
Stupid amounts of running in the snow and cold, and learning to like it. Frigid Finger Lakes Trail explorations with Jason. Swimming in waist-deep snow in multiple TrailsRoc group runs. Bloody shins from wearing shorts in ice-crusted March snow. Idiotic winter hill climbing at Canadice Lake. Snowshoe running and racing! Spelling out a 1,500 ft long snow valentine to Valerie on snowshoes in a corn field. Elated to finally see a patch of bare dirt on a spring equinox run.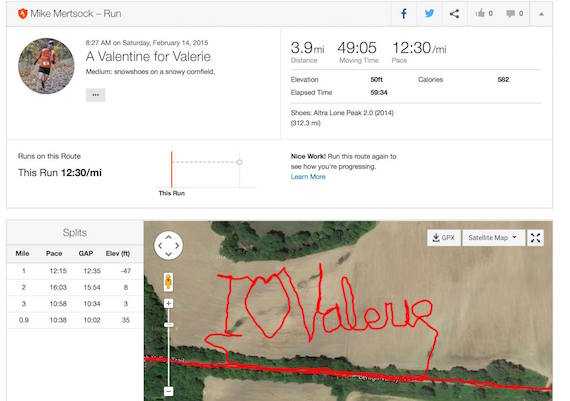 A snowshoe valentine.
Summer adventure in the woods. Huge training weeks with 20-mile solo runs in the wilderness on the Twisted Branch course. Crazy weather at 0 SPF. Learning to embrace heat and humidity and sun and rain. Rock hopping and Scott Jurek care package sightings on the Appalachian Trail. Discovering and building trails at Mendon Ponds for Mighty Mosquito, and collaborating to design cool new race routes.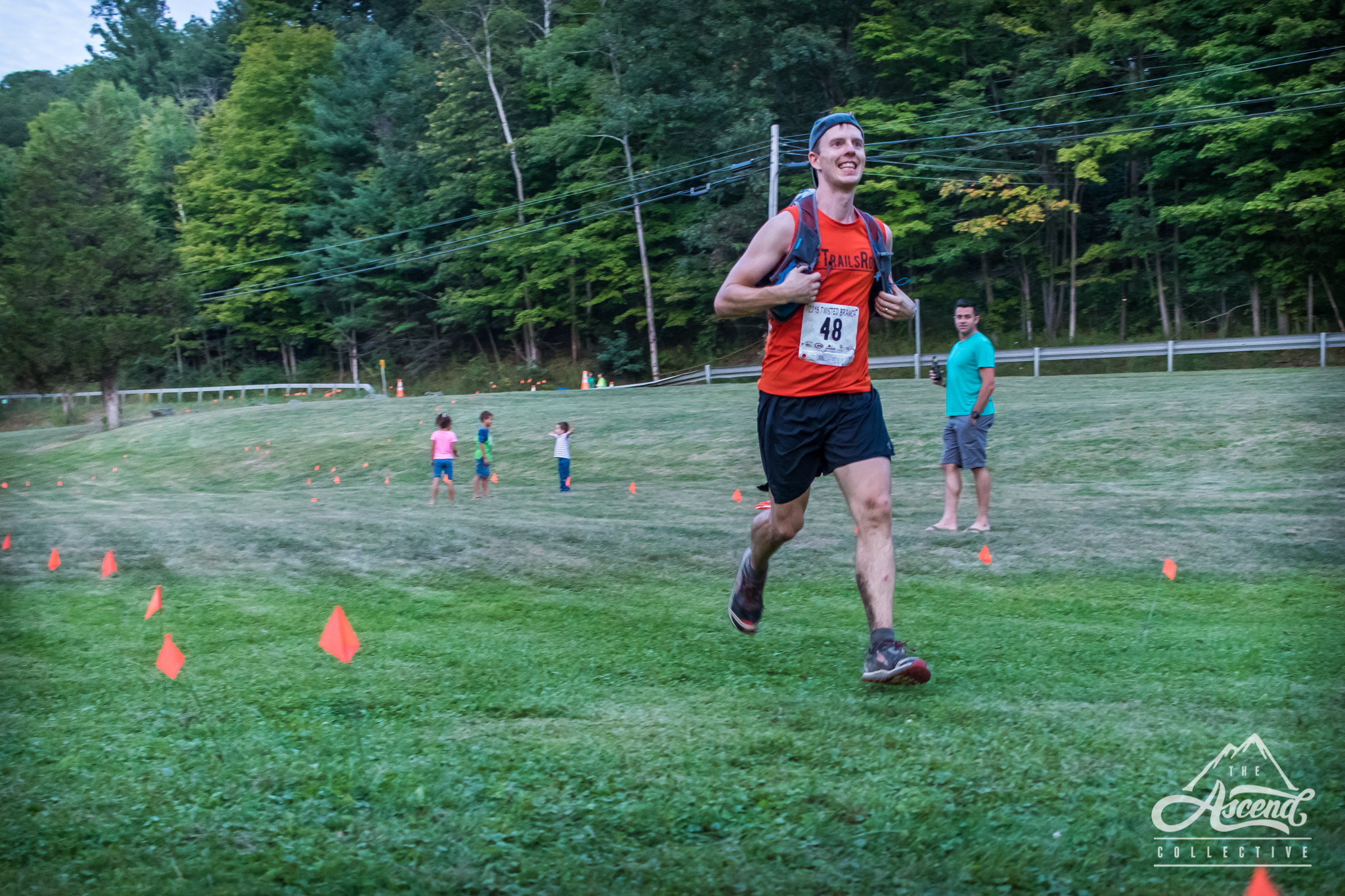 Twisted Branch finish. Photo by
The Ascend Collective
.
My biggest and toughest races ever. Some early success in shorter faster spring trail races. Hard lessons learned and crossing the finish line with new friends at the Mind the Ducks 12-hour race. Falling on my face half a dozen times and learning mental toughness at Ontario Summit trail marathon. Getting comfortable with adverse trail conditions at a muddy Finger Lakes 50s, followed by one of the best meals of our lives for Valerie's birthday. Twisted Branch, well, I already used all my words for that. Missed my goal, but gained wisdom and strength, in a fastest-known-time attempt on the Crescent Trail. A successful return to Mendon 50K, made better by seeing lots of friends also achieve great things.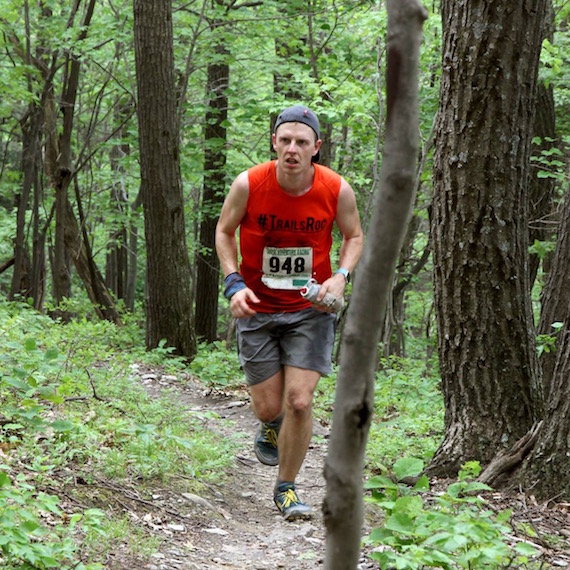 Intensity at Ontario Summit. One of my favorites. Photo by John Green.
First time in the Catskills, thanks to Ben Murphy and the wonderfully insane Devil's Path. Loved my first taste of the mountains and mountain running. There's something special about those high peaks, I can't quite describe it yet. Really itching to get back there.
Hanging out on Sugarloaf Mountain, on the Devil's Path. Photo by Colin Bailey.
Good times with friends: ice cream, slacklining, bonfires, ugly sweaters, ginger ale, bowling, birthday runs, cookies in a parking lot at midnight with unseen wildlife stalking us, crewing, volunteering, pushing each other to new levels, raccoon encounters, lots of wrong turns, racing and sometimes falling down hills, lots of conversation, plenty of quiet moments together in nature. I made a lot of new friends, and most of these milestones and experiences were made better by your company.
#TrailsRoc. Funny how sometimes one thing leads to another. In this case a seemingly mundane request to help test an iPhone app turned into a partnership, and then a board position, and meanwhile the group runs encouraged me to get out of my shell and take a shot at forging friendships and sharing time with people on the trails. Thanks TrailsRoc, here's to another good year.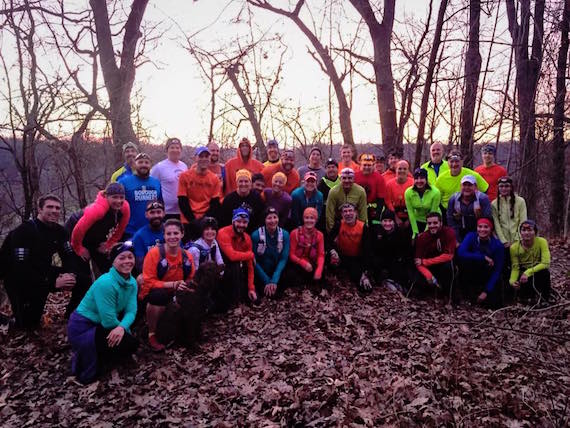 #TrailsRoc Troubled Turkey Trail Run. Photo by Ron Heerkens Jr.
And most important, the best companion, crew, voice of reason and encouragement one could have: Valerie.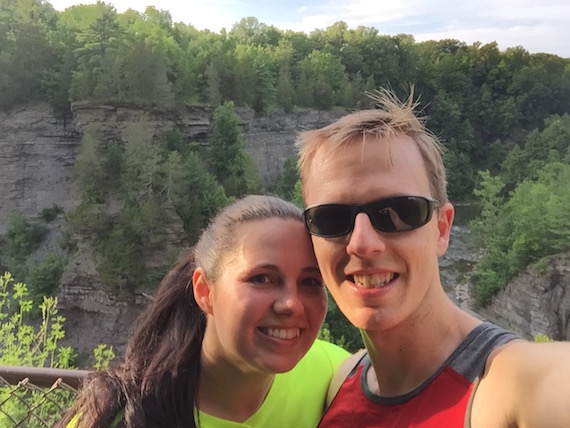 Valerie's birthday on the trails at Ithaca.
Next year's goals
Help TrailsRoc have another big year
Spring ultramarathon: Cayuga Trails 50 mile. Pretty much everybody I know is making this a spring goal race next year, and everyone else will be there crewing, volunteering, or taking photos
Mountain running: Escarpment. Finish Devil's Path?
Summer goal race: revisit Twisted Branch 100K
Hopefully spend more time in the Catskills/Adirondacks
Lots of non-race adventures in the woods and mountains with friends