Following a haphazard 2016 autumn, I was in full hibernation until jumping back into distance running with a stupid track marathon (which we discussed on the Running Inside Out radio show; maybe a recording will be posted someday). After getting that out of my system, I'm finally getting back into some semblance of purposeful training. Last week was especially interesting.

Here are some lessons learned:
Tuesday: Train harder. No excuses, use the resources you have, get creative
A lack of everyday training in January was dominated by three excuses: (1) I haven't figured out how to reliably get out of bed early, (2) trails are too muddy or too far away for a lunch run, (3) roads are fine but I don't like running on a highway after work in the dark. Tuesday's workout fixed all of that. I took lunch hour to run the moderately hilly roads around home, but added a twist to freshen the familiar route: each time I traversed a hill (up or down), I would double back and repeat it. While staying within the bounds of lunch hour. The result: a road run with 129 ft/mile total climb, with the feel of a tempo run, avoiding the damage of excess road-hill-repeats.
Wednesday: Pacing and consistency
Last year was marked by poor pacing skills on "easy" long runs or long races. I have decided to stop worrying about trying to run at ultra-type paces during long runs, and focus on consistency. This 20K at Mendon felt pretty good in that regard. Two hilly five-mile loops in the dark, running only by feel, and the times were within seconds of each other. (Plus a mini-loop afterward to fill the remaining time available.) Had I run at this pace on a long-ish run last year, I would have felt it was too fast for ultra training and would have felt frustrated; but it just felt good and natural today, I finished feeling fresher than the start.
Friday: Pacing and consistency (roads variant)
Stayed late at work to make room for a long lunch, in order to attempt applying the above philosophy to a half marathon on somewhat hilly roads. Got a PR (not that I've ever raced a road half so that doesn't mean a ton) and it felt good all the way to the end. Maybe just confirmation bias but for now I will continue to care less about "easy" pacing and more about what feels natural.
Saturday: Adventuring, enjoy the stupid stuff
Finger Lakes Trail delivers on challenge. Every mile I have seen. It's great ultra training. When running long on the FLT, it will will be harder, take longer, and stupid things will happen. Like a water bottle falling apart. Or "jeep roads" composed of equal parts snow, running water, and loose rock, deeply eroded into a briar-lined ditch climbing a long 20% grade. It was a blast, partly because this is often the route to some amazing scenery and special places in the wilderness (real or metaphorical). Whatever attitude it takes that allows me to do this stuff while smiling is what I need to hold on to late in an ultra. Something to remember.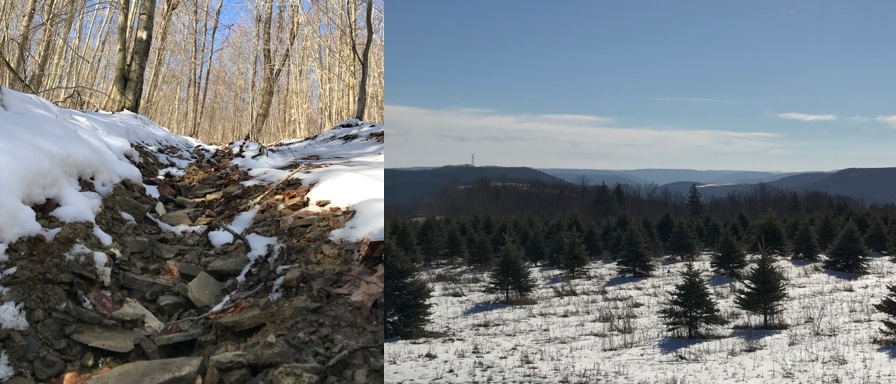 Do the work on the left for the reward on the right.
Sunday: The benefits of volume
Back to back long runs, something I've struggled to do consistently in the past, will be critical to success for this year's racing/adventure plans. Things worked out right this week: a 13.2 + 14.9 + 11 mile weekend. Not peak-training numbers, but this isn't a peak training week — only a start. And Sunday's hilly 11 miler on the Crescent trail had all the benefits of this sort of training: the first mile felt like mile 10, and for the last few miles my legs felt like the they were finishing a 50K race. What was enjoyable was to hit that pain point and just keep moving, and to gain some confidence that there's nothing stopping you from continuing. Another thing to remember in upcoming races.
Next
Last year's racing goals — a little faster, compete more, hold back less, revisit and PR some favorite ultras — were mostly unmet. And then DNFs started happening. Something was clearly wrong with training and mindset. Not sure whether a coach would approve of any of the above methods or lessons from last week but it feels like these things could work for me. Whatever.
What's on the agenda for this year? Breakneck Point 42k. Laurel Highlands 70 mile. Many on the Genny 40 mile. Multiple adventures lined up in the Adirondack and White Mountains. So, a couple of longish races and lots of stuff with friends. And some other big plans that aren't yet ready for open discussion. Follow along on Strava or Instagram.